When you have a very specific interior design requirement for your modern sofa, for example, that it will fit in the corner of your living space, it can be tough to comb through all the options available. We decided to take all the guesswork out of it and do the research for you.
Today we're sharing 5 of the best corner sofas on the market. We've gathered the top picks for high-quality upholstery, exceptional craftsmanship, and styling so that you can make completing your home decor a cinch.
Some of our featured brands include Allform, West Elm, Anthropologie, Pottery Barn, and Brentwood.
5 Best Sleeper Sofas Consumers Loved This Year
1. Allform 4 Seat Corner Sectional Chaise Sofa
Price: Starting at $2245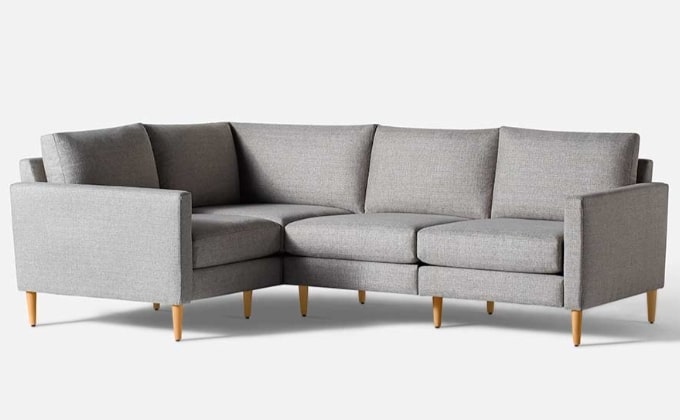 What real customers loved about the 4-Seat Corner Sectional by Allform
Customers love this mid-century modern, modular sofa, with quality hardwood frame construction and fast, easy delivery. Customers also love the option to upgrade to larger seats if needed. 
Drawbacks or Flaws
There's not much to complain about with this sofa. It's super high quality and extremely comfortable. Perhaps, we wish they had more style options available.
2. West Elm Andes 3-Piece Chaise Sectional
Price: Starting at $2697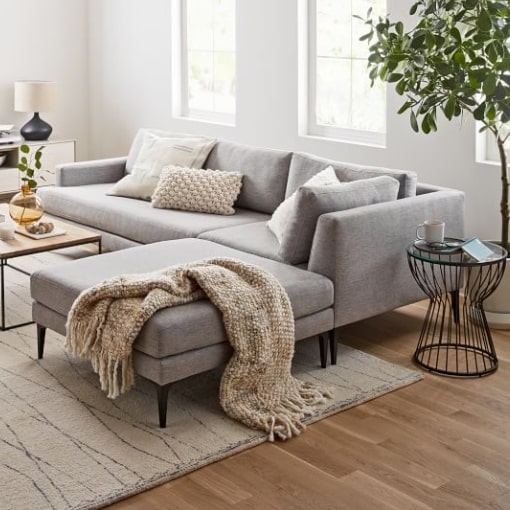 What real customers loved about the Andes Sofa
Customers love that this large fabric corner sofa set comes with a variety of fabric and customization options as well as ultra-plush seat cushions and a reversible sectional
Drawbacks or Flaws
This is not a small living room sofa, so if you're tight on space, this might not be the right option for you. 
3. Anthropologie Relaxed Saguaro Sectional
Price: Starting at $3598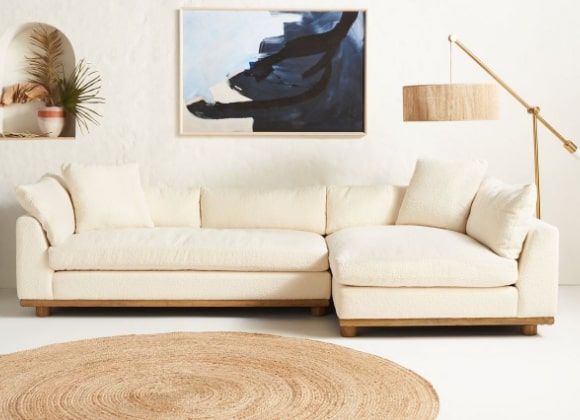 What real customers loved about the Relaxed Saguaro Sectional
Customers love that this four-seater sofa has a great "chill" vibe and that it can be configured as either right hand facing or left hand facing. They also love that it's luxurious but compact enough to include another piece of furniture like a coffee table or an end table.
Drawbacks or Flaws
Some customers have complained that due to the high price, this sofa should come with free shipping. 
4. Pottery Barn Big Sur Square Arm Upholstered U-Shaped Chaise Sectional
Price: Starting at $4595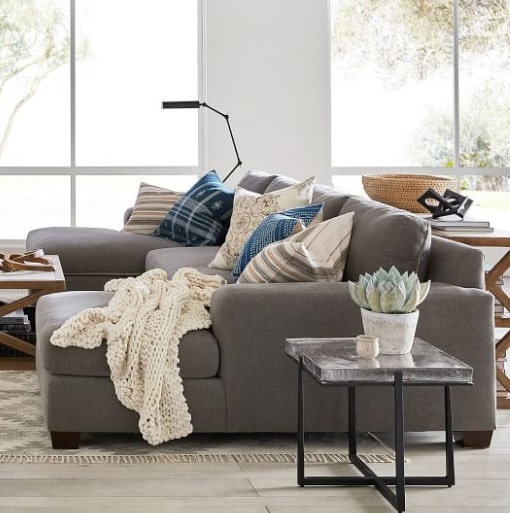 What real customers loved about the Big Sur Sofa
As one of Pottery Barn's bestsellers, customers love the color and upholstery selection for this sofa, which features creamy beiges, dark grays and deep blues. 
Drawbacks or Flaws
The big one here is the price. Some customers believe this sofa is a bet overpriced when you look at the competition's quality.
5. Brentwood 2-Piece Sectional Sofa by Apt2B
Price: Starting at $2178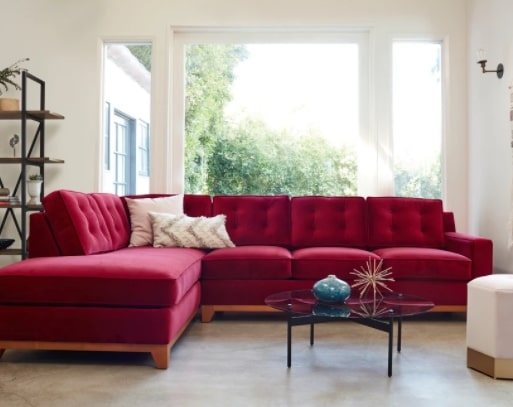 What real customers loved about the Brentwood 2-Piece Sectional
Customers love the tufted modern design of this sectional sofa set and say that it is well-made and sturdy. 
Drawbacks or Flaws
Customers have complained that this sofa tends to hold onto "fuzzies" a bit more than they'd like and require a bit more effort to clean. 
Tips for Buying a Corner Sectional
Small Corner Sofas
While many of the options we've listed tonight are not small corner sofas, that doesn't mean you can't find one. All Form sofas, for example, are customizable so you can choose a corner loveseat sectional instead if you wish. 
Customizing Your Corner Sectional
Don't forget you've got options. Looking for a higher-end option? Select a leather corner sofa. You can also opt for a corner sofa bed to provide a place for guests to stay the night. If you need a better backrest, upgrade to high-quality, memory foam back cushions. 
Other Brands to Consider
If none of our top picks quite strike your fancy, worry not! There are several other brands that make stylish, affordable corner sofa and other living room furniture such as IKEA, Amazon and Joybird.