We've reviewed tons of sofas, sectionals, loveseats and more on this site and rated them based on their comfort, style, customizability and construction. We've also taken a close look at which retailers and showrooms have the best quality, prices, policies, and customer service. Here we'll share our top picks for six of the best places to buy a sofa for your living room this year.
So whether you're looking for a loveseat, traditional leather sofa or a sectional sofa with a mid-century modern flair, we've got options to help you find out where to buy the best couch for your budget.
6 Best Places to Buy a Couch in 2020
1. Allform
Price Range: $1145 to $4500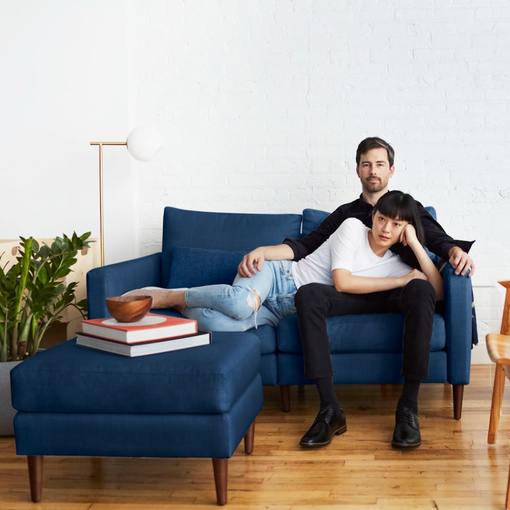 What real customers loved about Allform
Allform doesn't yet have a showroom yet, but it no doubt deserved a space at the top of this list for its quality, style and customizability. Allform is a nascent sofa brand launched by the brainpower behind the New York-based Helix Sleep mattresses. The sofas are designed to be modular, easily reconfigurable to fit your space exactly.
Customers love having sofas delivered directly to them. They love customizing their orders and the easy assembly. Want a contemporary sofa with chaise? Allform has it. Need an 8-seat sectional couch? Allform has that too. 
But mostly they love the style and quality of these sofas. The performance upholstery, top-grain leather, hardwood frame and high-grade foam seat cushions all reflect a brand that balances extremely high manufacturing standards and affordable pricing. 
Allform also gets bonus points for focusing on sustainability in its production methods, and a favorable return policy for customers.
Allform's Drawbacks and Flaws
The main drawback for Allform is that you don't really have the opportunity to go the see the sofa in person. They no doubt are working on this, but in the meantime, they do have a 100-day trial so customers can decide whether the couch is for them.
2. IKEA
Price Range: $149 to $3229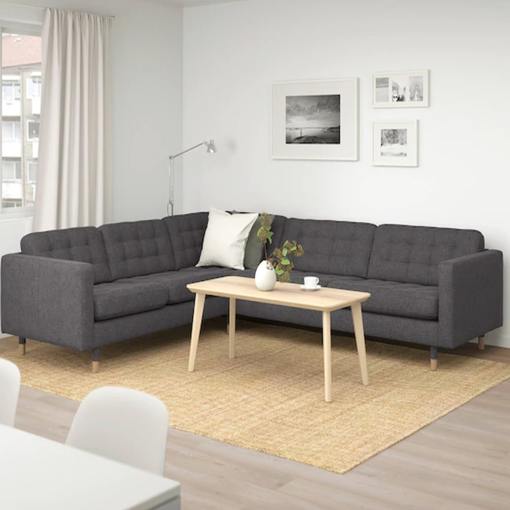 What real customers loved about IKEA
IKEA is best known for sofas that combine functionality with simple, clean lines and modern designs. They have received recognition for efforts to make affordable furniture from sustainably sourced materials. Overall, IKEA is a great fit for those looking for a well-designed, functional Scandinavian-style sofa at a reasonable price. 
IKEA customers love that they have the option to purchase online or any number of physical locations throughout the United States. They also love that IKEA provides stylish options at affordable prices. IKEA also carries several furniture items, including home decor and everything from coffee tables to curtain rods.
IKEA's Drawbacks or Flaws
Some customers have claimed that IKEA furniture is lower in quality and aren't pleased that they don't offer full-service,  in-home setup options.
3. Ashley Furniture
Price Range: $299 to $3999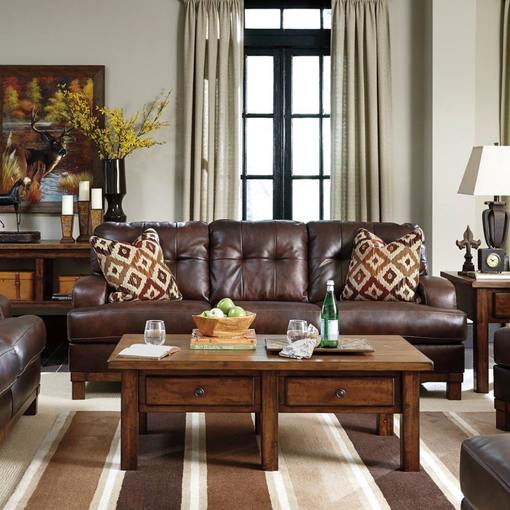 What real customers loved about Ashley Furniture.
Ashley Furniture is a well-known retailer with locations all over the United States. Their furniture catalog includes a huge selection of sofas and sectionals of all styles, sizes, and price points. Both the young college student looking to furnish their first apartment, and a family looking for a sofa for the family room can find something at Ashley. Ashley is also known for selling quality items and offering stellar customer service.  
Buyers love that they can browse online before visiting their local retail location. They also really love the quality and comfort of Ashley sofas.
Ashley Furnitures Drawbacks or Flaws
Some buyers have complained that Ashley's charges an unreasonable markup. Others have reported problems with their delivery (orders arriving incomplete). 
4. La-Z-Boy
Price Range: $699 to $2999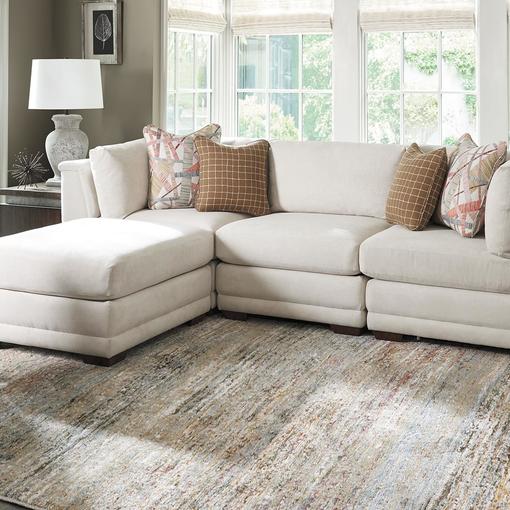 What real customers loved about La-Z-Boy.
As probably the oldest running business we've reviewed, it's worth mentioning that La-Z-Boy was founded in 1927 in Monroe, Michigan and created an entirely new category in furniture: the recliner. However, after 90 years of research and development, domestic manufacturing, and the creation of a strong supply chain La-Z-Boy is now known for entire line of quality furniture for multiple budgets. 
Buyers love that La-Z-Boy has a long-standing reputation for American-made, quality furniture and showrooms all over the United States. 
La-Z-Boy's Drawbacks or Flaws
Most of La-Z-Boy's complaints revolve around the fact that they don't allow returns and offer only a 3 day exchange window.
5. Pottery Barn
Price Range: $499 to $2999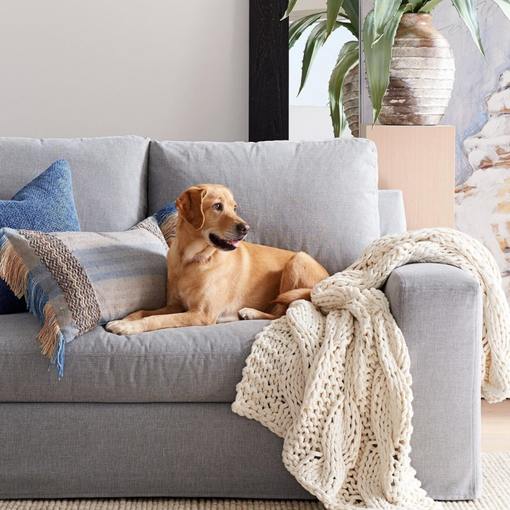 What real customers loved about Pottery Barn.
Pottery Barn, an extension of Williams & Sonoma, is a very well known brand with an extensive selection of couches and sectionals, and nearly 200 showroom locations throughout the U.S. Pottery Barn offers upscale, higher-end furnishings at a range of price points. Their collection contains both modern designs as well as traditional styles to appeal to a wide range of tastes. Additionally, their focus on sustainable materials, such as organic products, recycled materials, and even reclaimed wood, has made a considerable impact on the reduction of their carbon footprint.
Their customers love that they offer free shipping and that they offer design consultations and white glove, full-service deliveries.
Pottery Barn's Drawbacks or Flaws
Buyers have complained that Pottery Barn has a limited return window and does not offer warranties on their products. 
6. West Elm
Price Range: $499 to $2999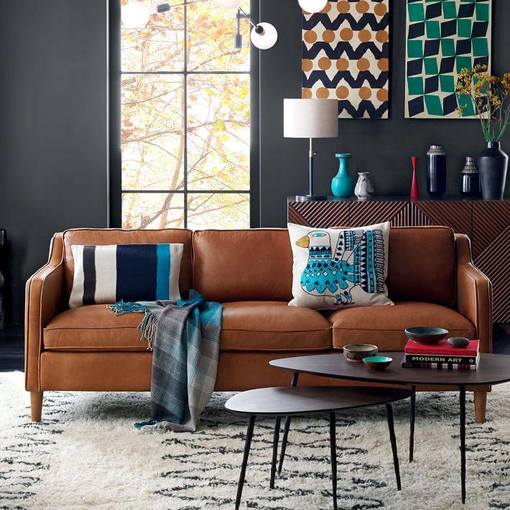 What real customers loved about West Elm.
West Elm, also an extension of Williams Sonoma, has a strong focus on creating quality, high-end sofas available at reasonable prices. However, unlike some of Williams-Sonoma's other brands, West Elm's design inspiration has more of an edgier, contemporary appeal. A combination of clean lines, solid colors, and modern fabrics sets them apart from sister brands like Pottery Barn. 
Buyers love that West Elm has a number of retail locations to view their items before buying. They also love that West Elm offers design consultations and white glove delivery service.
West Elm's Drawbacks or Flaws
Buyers have complained that West Elm does not offer free shipping and has a very limited return window.
What To Consider When Looking at Furniture Stores
Know what kind of sofa you're looking for 
Brands specialize, and it's important to know what they specialize in. If you're looking for a sleeper sofa, for example, you don't want to walk into a store or waste your time on a website that doesn't sell any. If you're looking for affordable options, it's probably not smart to wander into a Pottery Barn. 
Modern furniture brands do tend to have a wide selection for online shopping, and only carry some inventory in-store. Shop online first, and narrow down your choices before you even walk into a physical store.
Take a quick look at all couch brands
If you're not finding what you need in this list, it's best to take a thorough look around. Some popular sofa brands that aren't on this list include Burrow, Anthropologie, World Market, Allmodern, Hayneedle, Joybird and Urban Outfitters. 
You can also check out mega-retailers like Amazon, Wayfair and even Walmart for affordable options.
Choose a new sofa that fits your space and your life appropriately
You might like the look of a particular sofa, but you need to ask yourself whether it fits with your existing decor. You also need to consider whether it's built with high-quality materials. In addition to that, it should be comfortable and long-lasting.
We hope our review helps ensure you make the right choice.