Leather upholstery is the ultimate luxury for a piece of furniture. It looks beautiful in any style living room, and unlike fabric, it gets better as it ages. However, leather is also an investment, and you want to be sure that you've chosen your purchase well before spending the money. 
We're here to help! Whether you're buying a leather loveseat, three-seater, or sectional sofa, we've got the top-rated brands to help you make your selection. 
Since we already covered our favorite individual leather sofas of 2020, here we'll share the brands that offer the best leather sofas in terms of quality, style, value, durability, and customer service.
The Best Overall Sofas of 2020
Our team evaluated price, quality, comfort and additional features to bring you the best new sofas available now.
The 5 Common Leather Grades
When buying a plush leather sectional, or another type of sofa, for your living room, it's important to understand the different types of leather available.
You may be familiar with terms like "classic leather", "faux leather", and "Italian leather", but less familiar with leather grades. All real leather is made from animal hide and is either used whole or put through a splitting process which separates the top, high-quality leather portion, from the lower portion.
Full-Grain Leather
Full-grain leather is the leather that is not split and includes the entire hide. It retains its full texture and natural markings. It is also unprocessed so it's pores are open making it absorbent of any moisture or oils it comes in contact with. Over time,  this absorption makes it develop a "patina" that is considered to improve it's appeal rather than age it.
Top-Grain Leather
Top-grain leather, or aniline leather, is the top portion of the animal hide that is left after the splitting process. After being separated, it is sanded and buffed and put through a tanning process that closes the pores so that the leather can't absorb moisture and is then given a coat of aniline dye to provide an even appearance.
Split-Grain Leather
Split-grain leather is the bottom portion of the hide that is produced by the splitting process. Split-grain leather is then typically used to make other types of fabric like suede. Suede is a very common, and popular sofa upholstery. 
Genuine Leather
Genuine leather is the lowest grade of leather above bonded and faux leather. It is usually made of several of the lower layers of the hide, bound together with glue, and painted to give it a uniform look. 
Bonded Leather
Bonded leather isn't actually leather, but rather a mixture of leather dust, scraps, vinyl, plastic, and glue- bonded together and sealed with a protective coating. Unlike the other types of true leather we've discussed above, bonded leather isn't as durable and is less expensive.
5 Best Leather Furniture Brands Consumers Loved This Year
1. Allform Leather Sofas
Price: $1695 to $6495
Read the full Allform review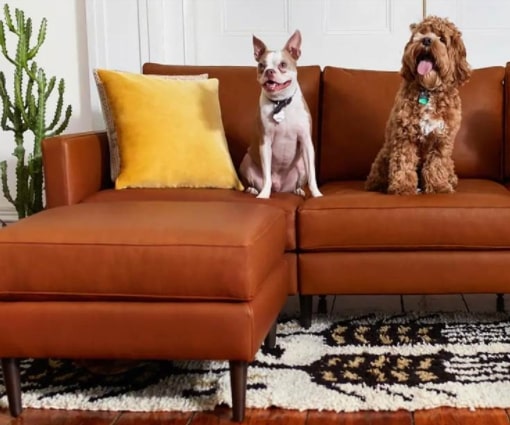 What Stands Out About Allform Leather Sofas
Customers enjoy the quality craftsmanship of the solid hardwood frame and top-grain protected leather with 1.2 to 1.4 mm thickness. That's 20% thicker than standard leather furniture. They also enjoy that you can customize your sofa to be a 1 to 8-seater sofa and upgrade the seats for deeper seat and back cushions.
Popular Leather Couches from Allform
Some of the most popular leather couches from Allform are the 3-Seat Sofa with Chaise and the 5-Seat Corner Sectional.
2. West Elm Leather Sofas
Price: $1799 to 12,695
Read the full West Elm review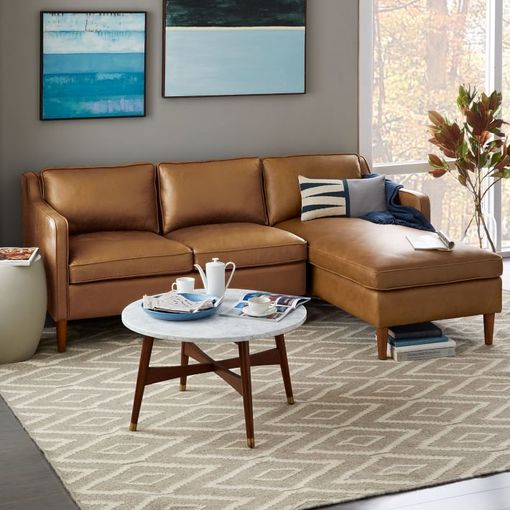 What Stands Out About West Elm Leather
Customers love the wide selection of leather sofas that West Elm offers from sectional chaise sofas, chesterfield sofas, sleeper sofas, and reclining sofas. They also love the variety of price points available so every budget can find an option.
Popular Leather Couches from West Elm
The most popular leather sofas include the Hamilton Leather Sofa, Axel Leather Sofa, and the Haven Leather 2-Piece Terminal Chaise Sectional.
3. Pottery Barn Leather Sofas
Price: $1395 to $13,195
Read the full Pottery Barn review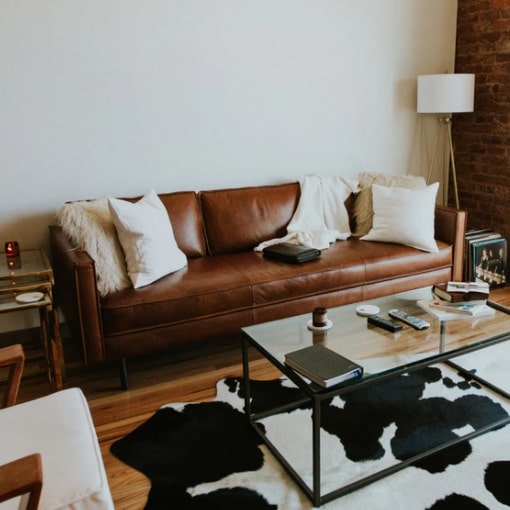 What Stands Out About Pottery Barn Leather
Customers love the selection of leather styles from retro to modern, square arm, and round armrests. They don't have to worry about sofas made with leather pieces and scrapes. With Pottery Barn, you get authentic American leather in rich mahogany and dark brown leather shades. 
Popular Leather Couches from Pottery Barn
Some of those most popular leather sofas from Pottery Barn include the Turner Square Arm Leather Sofa, the Webster Leather Sofa with Nailheads, and the Chesterfield Leather Sofa. 
4. Crate & Barrel Leather Sofas
Price: $2239 to $8666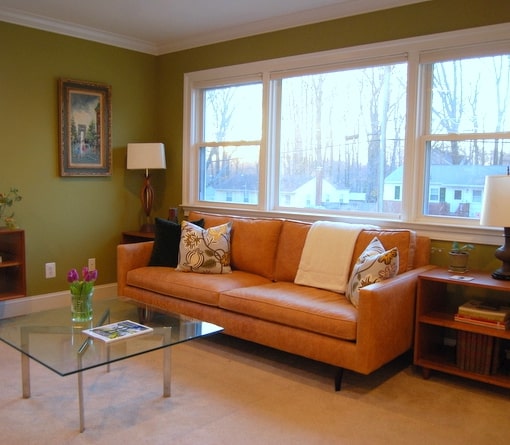 What Stands Out About Crate & Barrel Leather
Customers love the quality construction and long-term durability of the Crate & Barrel leather sofas. Customers have also said that they like that C&B offer a wide selection of color and customization options.
Popular Leather Couches from Crate & Barrel
Some of the most popular leather couches from Crate & Barrel include the Rollins Leather Sofa, the Lounge II Petite Leather 3-Seat 105″ Grande Sofa, and the Axis II Leather 2-Piece Sectional Sofa. 
5. Flexsteel Leather Sofas
Price: $1969 to $5342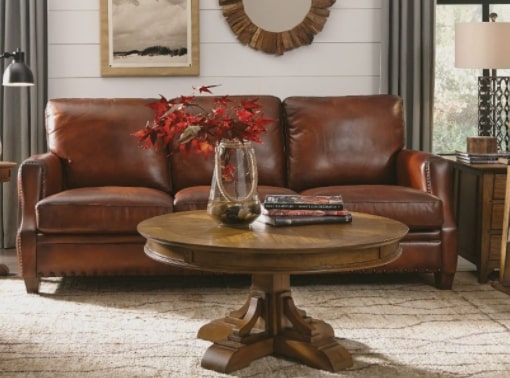 What Stands Out About Flexsteel Leather
Customers love that, while it might be on the pricier side,, the comfortability and craftsmanship of Flexsteel leather is top quality. They also love the rich hues of the various anilene shades there are to choose from.
Popular Leather Couches from Flexsteel
Some of the most popular Flexsteel leather sofas include Sienna Power Reclining Loveseat and the Fenwick Power Sofa with Headrest. 
Tips for Buying a Leather Sofa
Leave Room in Your Budget For Your Other Home Decor
It's no secret that leather furniture can be quite an investment. There's nothing worse than spending your entire budget on a sofa and realizing you have nothing left over for a coffee table, chair, or other accent items. Be sure to think through all the pieces you want to purchase and budget accordingly so there's room for everything.
Don't Be Fooled by the Term "Genuine Leather"
Many lower-quality brands are quick to throw out the term "genuine leather" knowing that it will catch the eye of many consumers who haven't done their research. This grade of leather, as we've stated before, is actually the lowest grade above bonded leather. If you're hoping to find the highest quality leather upholstery, shoot for full grain or top grain leather.
Research Other Brands as Well
While we've narrowed down our list of brands to those we think are the best in terms of price point, high-end craftsmanship and customer service reputation, it doesn't mean there aren't other brands out there you can consider. For example, Ashley, Bradington-Young, and Amazon's brand Rivet should all be on your radar.