Ashley Furniture Price, Durability, Delivery, Pros and Cons
Ashley Furniture or Ashley HomeStore is an American furniture store chain that sells only Ashley manufactured furniture products. They opened officially in 1997, and today, have over 1000 locations worldwide. They offer a wide selection of furniture styles from farmhouse to contemporary and operate on the idea that customers deserve superior value both in terms of quality, variety, and price.
Ashley Furniture Pros & Cons
Pros
Lower price point
Local showrooms 
Financing available
Warranty available
Cons
Limited 72-hour return window
Limited color options
No free shipping
Limited warranty
How much are sofas and couches from Ashley Furniture?
The prices for Ashley Furniture sofas fall in the range of $500 to around $2000.
Ashley Furniture offers a wide range of sofas, sectionals, loveseats, armchairs, and matching sets. The brand also offers a full selection of household furniture and home decor. Overall, the price for an Ashley Furniture sofa ranges from $499 to $1999. On the lower end of the price range is your basic two-seat loveseat sofa, while on the higher end are the larger sectionals.
What is the most popular sofa or couch from Ashley?
Larkinhurst Earth Sofa
Price: Starts at $764
Sofa Dimensions: 38" H x  89" W x 39" D
Seat Depth: 22.5"
Seat Height: 20.5"
Distance Between Arms: 66"
Top of Cushion to Top of Back: 18"
Arm Height: 26.5"
Leg Height: 3.5"
Available Colors: Earth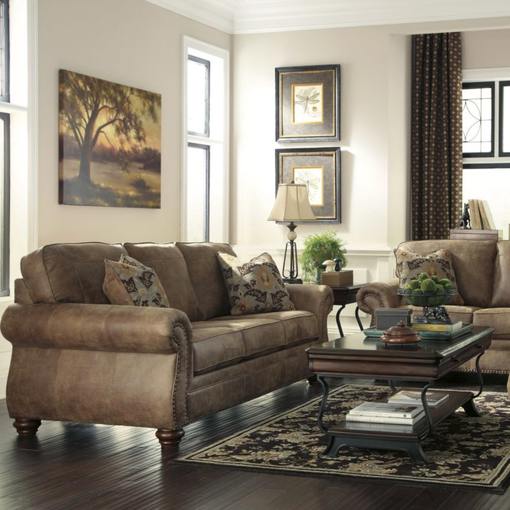 This show-stopping sofa will transform your living space with it's rustic, weathered appeal, at a fraction of the usual sofa cost. Washed in an earthy Southwestern tone, filled with lush, back and seat cushioning and jumbo window-pane stitching, the sofa has the best of both worlds in terms of comfort and durability. Classic rolled arms and turned feet give this sofa a classic, traditional finishing touch.
Features:
Corner-blocked frame
Attached back and loose seat cushions
Cushions with ultra-supportive pocketed coils
2 decorative pillows included
Pillows with soft feather inserts; zippered access
Polyester/polyurethane upholstery; polyester/polyurethane and polyester pillows
Nailhead trim
Exposed feet with faux wood finish
How long does it take for Ashley to deliver sofas?
Ashley Furniture orders have varied shipping times depending on how close you live to a local store. On average, delivery takes 5 to 10 business days. 1 to 2 day shipping is available but there are restrictions both on items and locality.
How long do Ashley sofas typically last?
In general, high-quality sofas can last between 7 to 15 years with reasonable use and upkeep but it's important to remember that typically, less expensive sofas are built with less expensive parts and labor which lend themselves to a shorter lifespan. With that being said, Ashley Furniture offers a limited lifetime warranty on frame parts, a 5-year warranty on springs, and a 1-year limited warranty on upholstery and cushion filling.
Ashley Policies
Ashley Furniture has a limited 72-hour window for returns. If you are unhappy with your order, or there is a defect, you can orchestrate a return or repair with Ashley. Shipping and handling fees are not refundable.
Additionally, Ashley offers a limited lifetime warranty on the frame, a 5-year warranty on the springs, and a 1-year warranty on upholstery and filling.
Trial & Returns: 72 hours
Financing: Financing available
Warranty: Limited lifetime warranty on frame, 5-year warranty on springs, and a 1-year warranty on upholstery.
Where It's Made: Manufacturing occurs in the USA, China, and Vietnam.
Real Ashley Furniture Customer Reviews
We enjoyed reviewing Ashley Furniture and believe the brand's sofas are a good option for shoppers who:
Are shopping with a smaller budget.
Would like to see furniture in person before buying.
Don't mind the limited return window.
Here are some real positive reviews from Ashley customers
"I purchased this couch online in February 2018 sight unseen and based on people's online reviews and love it. I love that it has three cushions for seating, and the bottom cushions can be moved around and turned over for spreading outwear. I have young, active grandchildren and the couch holds up well with them. I love almost every single thing about this couch and would still buy it again. The only negative is that the lovely side pillows (thankfully they have zippered covers) that come with it are stuffed with feather pillows which I am allergic to. I ordered new filler pillows online at a different site; afterward, I thought I probably should have contacted Ashley Furniture and they may have switched the inner pillows for me."
"My wife looked at this Larkinhurst Earth Living Room Set for several months before purchasing. She was very nervous about ordering it online. She went to a box store and looked at the set to make sure she liked it and they could not come close to Coleman's price plus we got the 5-year protection plan for free. What's not to like about that? It arrived twenty-two days from the purchase date which was great because it gave us time to find a needy family that wanted our old furniture. The old furniture still looked almost new we just wanted something different. When the movers delivered our furniture you could not have asked for more professional people. They were very friendly and very careful accessing the room before bringing the furniture in. "
Here are some real negative reviews from Ashley customers
"The sofa was very pretty at the store. They are maybe a year old now. My pillow backs were never as full as the picture looks and the seat cushions are constantly sliding out. I have arranged them every which way and they just don't stay in place. There is also a place on the inside of the armrest where I can feel a wood board on my hip. Do not care for this sofa at all. Definitely not worth the money paid. I previously had a couch bought at a cheaper store that lasted about 8 years, cost way less and everyone loved to sit on it. The loveseat however does not have any of these issues and is way more comfortable. The only problem I have with the loveseat is the fabric is sagging on the side of it."
"Our Larkinhurst Sofa, Loveseat, and Recliner came after Christmas. The material for the upholstery seems to be durable and looks great; however, looks are deceiving. The recliner wouldn't recline and we had to put in a service request not long after we got the furniture. The service rep fixed it in a jiffy and was very nice. Now we have discovered that one of the arms on the loveseat is defective and has also found a sharp tack that is working out of the front of the sofa. What next?? I am so disappointed! My receipt said all sales are final so I would advise you to be very careful. Thank goodness we bought additional warranty insurance!"